About Debbie Kitchen
Dominion Lending Centres is Canada's national mortgage and leasing company with more than 2,300 members offering free expert advice across Canada – taking the hassles out of the mortgage process and simplifying your life.
Debbie Kitchen is a highly experienced mortgage broker with over 25 years of financial experience and 13 years of specific expertise in the mortgage broker industry. Based in Kitchener Waterloo, Ontario, Debbie has built a reputation for excellence and is widely regarded as one of the leading mortgage brokers in the region.
Throughout her career, Debbie has been dedicated to providing her clients with personalized and tailored mortgage solutions that meet their unique needs and circumstances. With a deep understanding of the local real estate market and a commitment to staying up-to-date with the latest trends and industry developments, Debbie is able to provide her clients with the best possible advice and support.
In addition to her extensive experience in the mortgage industry, Debbie also has a strong background in finance and business. This gives her a broad perspective on the financial landscape and enables her to provide her clients with comprehensive financial advice that goes beyond just their mortgage needs.
Whether you are a first-time homebuyer or an experienced real estate investor, Debbie has the expertise and knowledge to help you achieve your goals. Her commitment to providing exceptional customer service and her unwavering dedication to her clients' success have earned her a loyal following and a well-deserved reputation as one of the most trusted and respected mortgage brokers in the Kitchener Waterloo area.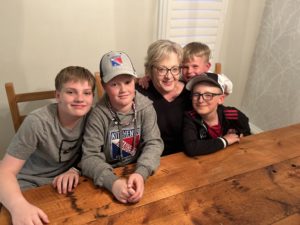 When I am not helping clients with their mortgages, I am spending my time with my beautiful grandkids.